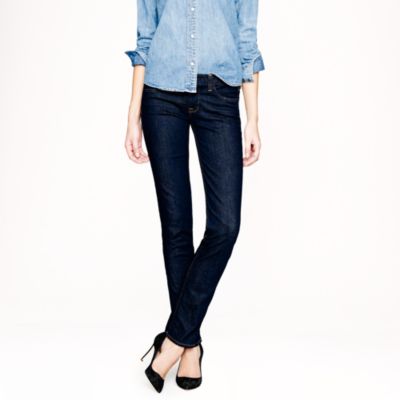 There is one high end jean that I keep finding myself buying! Bonus: I have never had to buy it full price, and even find it to be worth the money anyway! That jean, my glitterfriends, is the J.Crew Matchstick jean. Why you ask?
Pros
Not a skinny jean, which, as someone in their mid-20's, I appreciate because I feel comfortable wearing these straight leg jeans on casual Friday in my workplace, and would not wear jeggings or skinny jeans. Though, if you want the skinny look, check out their Toothpick jean!
Wash well, and dye seems to hold pretty well.
"Cute butt" jeans without looking like I am trying to have "cute butt" jeans, if that makes sense? Kind of the jean version of the effortless, or "no makeup" makeup look!
Cons
The price isn't accessible for everyone, BUT, it Baltimore I have been able to find these jeans at both Uptown Cheapskate and The Wise Penny for as low as $8! And they looked brand new! You'd never be able to get these for 86% off even at the outlet store!
The Evidence
I own 3 pairs, as well as another style of J Crew jeans (the Bootcut style I believe)!
I have one dark blue pair similar to the wash pictured above, a lighter blue in the stretch version, as well as a black wash pair.
The Verdict
I love them, and have been forever converted from cheap jeans! I love them so much that I feel that once I feel the need to get new pairs, I may even buy them at J. Crew full priced! Or try out some of their other styles. Midrise, I am looking at you for my late 20's! And Boyfriends, I am looking at you for my Florida wardrobe!
What is your go to brand and style of jeans? I have heard great things about Guess jeans for curvy ladies, and Topshop Leigh jeans for tall ladies. Comment below with your favorite.